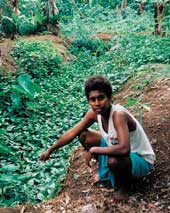 RECENT WORK carried out by TerraCircle includes:
Backstopping support to Kastom Gaden Association
TerraCircle is providing technical assistance to this Solomon Islands organisation as part of core funding from AusAID to KGA to provide food security services across the country.
TerraCircle role is:
participatory planning and capacity building
support to develop an effective Monitoring and Evaluation system geared to organisational learning
technical advice and backstopping including mentoring of key personnel.
Project management advisory services
Community Based Health Care, Tari, PNG
(submissions, monitoring, evaluation etc).
Design and implementation
demographic data collection
advising on population issues to Lahir mining management company, PNG.
design of the Sustainable Livelihoods for Isolated Areas Project in the Solomon Islands for Kastom Gaden Association/AusAID.
Linking Farmers to Crop Protection Networks, Solomon Islands
project with Pacific PestNet and Solomon Islands Department of Agriculture to use information technology and farmer field trials to reduce crop pest problems.
Production of…
trainee handbooks for the Sustainable Livelihoods for Rural Youth Project in the Solomon Island, on Agroforestry, Kai Kokorako (keeping chickens for subsistence and as a small business), keeping pigs for income
training manuals for rural trainers in Melanesia
reports:

Guadalacanal weather coast report – People on the Edge
Makira weather coast report – Extreme Living, Extreme Need
Malaita isolated regions report – Unheard Voices
Report of the Gwaunifiu meeting of the Melanesian Farmer First Network 2004.
Evaluation report
Evaluation report of APACE's Kastom Garden Project, Solomon Islands entitled Blue Seas and Bush Gardens.